daniel vettori: the k records years
glad to see that new zealand won won the natwest triangular tournament thingy, they are truly my second fave cricket team. especially pleased to see daniel vettori succeed, not only as a boring, apparantly obsolete finger spinner, but he's such a complete indie rocker as well.




messy hair; nerd-rockin' glasses; cheap promo t-shirt; quaint favouring of unfashionable, minimum effort techniques; he's not even professional, probably works at Borders cafe to fund his tours to play in front of small but knowledgable crowds.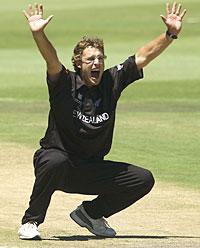 here he is rockin' out! the umpire's probably his bitch ex-girlfriend who dumped him for that smooth talking anil kumble. 'I THINK OUR LOVE IS COMING TO AN END!!!!' he opines as the batsman pads up to his arm ball.